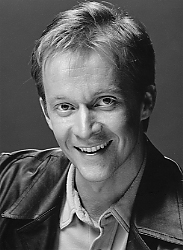 Photo: Mirka Kleemola
Kivelä, Sampo
Date of birth
2.4.1963
Profession
Dancer
Choreographer

Country
Finland
Email
sampo.kivela(at)opera.fi
Training
Finnish National Opera Ballet School 1981 - 1984.
Engagements
Finnish National Ballet: dancer (1984 - 1990)
Ballet du Grand Théâtre de Geneve: dancer (1990 - 1991)
Finnish National Ballet: dancer (1991 - )
Helsinki Dance Company: dancer (1999 - 1999)

Choreographed
Tahra (24.5.1986)
Limit (6.4.1987)
Eripari (1989)
Second Skin (29.4.1995)
Haista huilu (15.4.1997)
Dark on Light (1998)
Lapin kultaa (1998)
Rovaniemen markkinoilla (3.3.1998)

Work as a dancer
Axioma 7
Dream dances
Ghost Dances
Transfigured night
Land
Seven Deadly Sins
Kuin Orfeus: Without memories (1984)
La Mer: Three couples (1984)
Symphony in D-Major (1984)
Kaamosuni (1985)
The Nutcracker (Grigorovitsh): French doll (1985)
Poème (Sylvestersson) (1985)
Tahra (1986)
Victim (Uotinen) (1986)
Carmina Burana (Vamos): Strong man (1987)
Loviisa (1987)
The Four Temperaments: Melancholic (1987)
Dances in the Evening (1987)
Troy Game (1987)
Passage of Power (1987)
Lady of the Camellias (1988)
Stairset: Sextuplets (1989)
Ronia, the Robber's Daughter (Kuusela) (1989)
Spirit Blues (1989)
Transfigured Night: Fair couple (1989)
Salome: John the Baptist (1990)
Maa (1991)
La Fille Mal Gardée (Spoerli) (1992)
As You Like It: Orlando, the son of Sir Roland de boys (1992)
Four Last Songs (1992)
Pleyades (1992)
The Seven Brothers (1992)
Stelle (1992)
Barbarously Yours (1993)
Carmen?! (1993)
The Cable (1993)
Kyr (excerpts) (1993)
Steptext (1993)
The Drowned (1993)
Ballet Pathétique (1994)
Duo (Kvarnström) (1994)
Glass sonata: Man in white (1994)
The Nutcracker (Nurejev): Arabian dance (1994)
Tchaikovsky Piano Concerto No. 2 (1994)
Blood Angel (1994)
The Saga of King Arthur: King Arthur (1995)
Perpetuum (1995)
Second Skin (1995)
Tabula Rasa (1995)
Night (1995)
Ainda (1996)
Forgotten land: Black couple (1996)
Daydreamnation (1996)
Romeo and Juliet (Cranko): Paris (1996)
Westward Ho! (18.2.1996)
La Bayadère (Makarova/Petipa): Friend of Solor (1997)
Duende (1997)
Haista huilu (1997)
Kotva (1997)
Giselle (Guillem) (1998)
Kajo (Fontoura) (1998)
Langenneet (1998)
Langennut (1998)
Or (1998)
The Nutcracker (Nurejev): Spanish dance (1998)
Romeo and Juliet (Cranko): King of the Carnival (1998)
Rovaniemen markkinoilla (1998)
Tähtien yö (1998)
Ur (1998)
"... and then the lake engulfed them.": swan (1999)
Pulcinella (Saarinen) (1999)
Nijinsky - pasianssi kahdelle (Kivelä) (2000)
Onegin: Prince Gremin (2000)
The Sleeping Beauty (Nureyev - Petipa): Catalabutte (2000)
R&J (2000)
Slow O (2000)
Blood Angel (2000)
Pirjo (2001)
NakedMangoFallen (2002)
The Nutcracker and the Mouse King (van Schayk/Eagling): Herr Drosselmeier (2002)
The Nutcracker and the Mouse King (van Schayk/Eagling): General (2002)
Cinderella (Stevenson): Stepsister (2002)
Verso (2002)
Georgia (2003)
Play (Sariola) (2003)
Raymonda (Holmes - Petipa): Castellan (2003)
Unison (Sistonen) (2003)
Tshaikovski (2005)
Pasos nuevos (2006)

Corps de ballet roles
Finnish National Ballet:
Carmen: boys, 1984; The Seven Brothers: funeral guests, 1985; Don Quixote (Trinchero): Matador, 1985, gypsies, friends, 1988; The Midsummer Night's Dream (Veredon): sprites, wedding guests, 1985; Reflections: people of Lemminkäinen, 1986; Nutcracker (Grigorovitch): Waltz of the Flowers, 1986; The Rite of Spring: boys, 1994; Don Quixote (Bart): Matadors, Fandango, 1996; The Rite of Spring: boys, The Elders, 1997; Nutcracker (Nureyev): Waltz of the Flowers, 1998; La Bayadère: Pas d'action, 1998.
Other artistic work
Work as an actor:
Rashomon (Akutagava), dir. Laura Jäntti, Theatre Open Doors 1999; Burning Path (Pirkko Kurikka), dir. Laura Jäntti, Kassandra Production, Joensuu 2000; Slow O, a monolog (Kari Hukkila), dir. and chor. Sanna Kekäläinen, Physical Art Theatre 2000; A Woman Like Frozen Champagne (opera, comp. Ilkka Kuusisto), dir. Jukka Kajava, chor. Sami Saikkonen, Finnish Chamber Opera 2001; The Good Person of Sezuan (Brecht), dir. Laura Jäntti, Lilla teatern 2001.
Work as a director:
Nijinsky - a solitaire for two (Alexei Burykin), Finnish National Opera 2000; Kaikessa rauhassa, a monolg based on texts by Kristina Lugn, Theatre Taawetti 2002; Lugn med dig, Luckans Veranda 2004
Work as a repetiteur:
Le Sacre du Printemps, chor. Vaslav Nijinsky, The Finnish National Ballet 2003; Forgotten Land, kor. Jiri Kylián, The Finnish National Ballet 2004; Transfigured Night kor. Tero Saarinen, The Finnish National Ballet 2005; The Seagull, chor. John Neumeier, The Finnish National Ballet 2006.
Work as a performer in films:
Sibelius, dir. Timo Koivusalo, Artista Filmi Oy 2003; Lumottu lapsi, dir. Marikki Hakola, Kroma Productions Oy 2004.
Grants and awards
Grants:
Pro Dance scholarship, Alfred Kordelin Foundation 1986, Jenny and Antti Wihuri Foundation 1993, six-month state grant to artists 1989, Arts Council of Uusimaa 1995.
Awards:
Philip Morris Dance Bud Award, Philip Morris Dance Flower Award 1992.
Knight of the Order of the White Rose of Finland 2013
Literature and articles
Articles:
Auli Räsänen."Nuori tanssija 3.". TANSSI 3/1988.
Eija Mäkinen. "Sampo Kivelä: baletin dualisti. Kokokuva tähtitanssijasta, joka vierastaa tähtikulttia". TANSSI. 2/1995.
Other Information
Positions of Trust: member of the Ministry of Education's working group of the Vocational Qualification in Dance, 1999.
Arts Promotion Centre of Finland, member of the National Council for Circus and Dance

Has been a jury member in several dance and ballet competitions both in Finland and Sweden, has also worked as a commentator and compere for the dance programmes of YLE - the Finnish Broadcasting Company, and also as a compere at the Kuopio Dance Festival and Helsinki International Ballet Competitition 2005, Soihtu Gala in Pori 2005, The Imatra Ballet Gala 2006, 2007.
Producer of the Finnish National Opera Ballet School 2006.