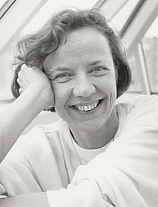 Arho, Taru
Date of birth
31.1.1942
Profession
Dance Instructor
Choreographer
Gymnastic teacher

Country
Finland
Training
Manja Chmiel School, Berlin 1967; Internationale Sommerakademie des Tanzes, Cologne 1967, 1978; Rambert School, London 1973; Rovinj International dance festival 1978, Nordic choreography seminar, Oslo 1980; Paris 1981, 1985, 1989; New York 1985, School voor Nieuwe Dans Ontwinkkeling, Amsterdam 1991.
Choreographed
3 x nainen (1983)
Avaan ovia (1982)
Katso minä kävelen takaperin (21.4.1997)
Kehtolaulu (1979)
Kielletyt ajatukset (1983)
Kulta, soi unelmissa tango (1988)
Martamariamagdaleena (2002)
Missa Nova (1977)
Mozartia alennuskupongeilla (1988)
Öljytty tiikeri (1992)
Paratiisilapset (24.10.1983)
Reviiri (21.5.1974)
Siirto (1984)
Sukkelus (1978)
Unesta valveille (1.3.1981)
Vielä kerran Amadeus (1.3.1981)

Work as a dancer
Helmi-tapahtuma (1993)
Kaamos ja yötön yö (1978)
Kielletyt ajatukset (1983)
Taru Sí Sí (1988)
Tasapainossa - vaakalaudalla (2005)
Tupun ja Jallun Iskelmätaivas (1993)
Vanhan kanan mietteitä (1993)

Other artistic work
Work as a teacher: head of her own dance school 1966 - 1993; teacher of modern dance in several amateur and professional dance schools in the Tampere area 1966 onwards, and in the Turku area 1995 onwards.
Organiser of the Dance Course by the Sea, in Houtskär 1995 onwards.
Work as a choreographer in private dance schools: several dance performances for the students of her own dance school; choreographies for the Art Event for Youth, for the Arktiset Askeleet dance event and for the platform of dance schools held in connection with the Kuopio Dance festival.
Grants and awards
Grants: City of Tampere 1973, Alfred Kordelin Foundation 1977, state grant for production 1978, County of Häme 1979, 1988; six-month state grant to artists 1981, 1984; one-year state grant to artists 1991, Arts Council of Varsinais-Suomi 2001.
Supplementary Artist pension 2003 onwards.
Awards: joined 3. prize at the choreography competition of the Union of the Finnish Dance Artists 1978.
Other Information
Positions of trust: chairperson of the Perpetuum Mobile Association 1974 - 1977, vice-chair 1977-1980; consultative committee for dance of Häme 1979 - 1985, member of the committee of experts of The Union of Dance Pedagogues, representative of modern dance; member of the consultative committee for dance of the Turku and Pori County 1995 - 1997.