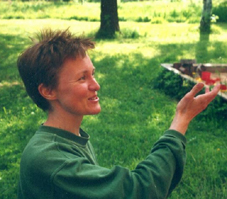 Vähä-Antila, Jaana
Profession
Dancer
Dance Instructor
Choreographer
movement researcher

Country
Finland
Email
sinipuu(AT)hotmail.com
Training
London Contemporary Dance School / Evening School 1986 - 1987, London Contemporary Dance School 1987 - 1990.
Courses:
Pilates technique, courses 1987 - 1990;
1990-1992 (Paris, Amsterdam, London): Cunningham technique with Ruth Barnes; Limon technique with Joe Alegado; Horton technique with Milton Meyers; Bournonville technique with Wayne Bryars; classical ballet with Laura Connor; classical ballet / Cecchetti method with Joan Hewson;
1992-1993 (New York): The Merce Cunningham Studio, Daily Programme (11 kk); Simonson technique with Lynn Simonson; release technique with Susan Braham; Lewiski technique with Joy Kellman; The David Howard Centre; classical ballet with Kim Able;
Theatre Academy of Finland, continuing education centre: Leena Gustavson's imrovisation course 1996, Paul Douglas' contemporary dance course 1998, Scott Clark's Feldenkrais method course 1998, Community dance education (10 credits) 1998, Russell Dumas' workshop 2001;
Ray Chang's workshop 2002; Deborah Hay's workshop, Side Step Festival 2003.
Choreographed
aukko joka virtaa
Monday 24.8.-92, New York
Oleton
Outland
Twofish
Vaihto ja -

Work as a dancer
Dynamo (1992)
Monday 24.8.-92, New York (1993)
Twofish (1993)
Outland (1994)
Vaihto ja - (1994)
Oleton (1997)
aukko joka virtaa (2000)

Other artistic work
Other work as a dancer: Seidman & Dancers, New York; Laurie Booth & Co, Iso-Britannia.
Work as a teacher: Orivesi Institute, Kuopio Conservatory of Music and Dance, Lahti Art Institute, Dance school of Juva, Summer university of Päijät-Häme 2002, Institute of Vanajavesi, Hämeenlinna 2002 onwards.